The family of "Rust" cinematographer Halyna Hutchins has demanded that the Santa Fe Sheriff's Office retract the trove of video footage it released showing the aftermath of the on-set shooting, saying it violated their right to decide what's made public.
Hours of bodycam footage released Monday show multiple scenarios from the chaotic aftermath, including paramedics working on Hutchins as she lay dying from a gunshot wound.
The lawyer representing Hutchins' husband and son, Brian Parish, said in a letter sent to the sheriff that the video violated their rights, calling for the Santa Fe Sheriff's Office to retract it.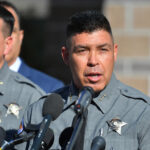 "The first time Mr. Hutchins saw the disturbing and unsettling video footage of his dying wife lying on the church floor was on Radar Online, an internet website," Panish said in the letter, which was obtained Thursday by TheWrap.
He continued: "The potential consequences are disturbing given how information is misused
…
Read More