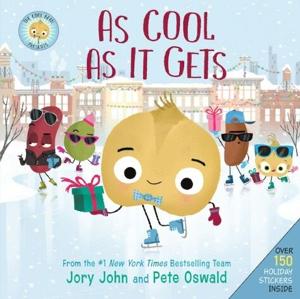 If you're thinking about buying a book or two for the budding readers in your life but unsure where to start, we've got some great suggestions for you. I'm sure there's something for everyone in this roundup of great children's books.
The Sour Grape by Jory John and Pete Oswald (Harper Collins) – The Sour Grape knows how to hold a grudge. Without waiting for an explanation, Sour Grape will hold a grudge if it feels wronged by friends. When the tables are turned however, can this sour grape turn sweet? This is such a fantastic book, like all of John and Oswald's others. I was volunteering in our school's library recently when the teacher read this book to several classes and the children (and adults) all loved it. (Ages 4-8)
The Cool Bean Presents: As Cool As It Gets by Jory John and Pete Oswald (Harper Collins) – Finding the perfect gift is hard, especially when you pull the name of the coolest bean. Join our little Cool Bean as he discovers that sometimes the best gift is one from the heart. Once again the author's hit it out of the park with another great book. With a story that carries a great life lesson and wonderful illustrations, parents and kids alike will love this book. (Ages 4 to 8)
Santa ABC by George Fewster (Harper Collins) – A quirky book with bold colours and illustrations, Santa ABC brings you through the alphabet as Santa tries on different personalities. Some are bound to make the kids laugh, like Ninja Santa, while others will provide a good chuckle for the parents (Ennui Santa anyone?). (Ages 3-7)
Creepy Crayon by Aaron Reynolds (Simon and Schuster) – From the team that brought us our favourite creepy carrot, comes a story about a young rabbit and his new sinister crayon. Jasper Rabbit is feeling down about his bad test scores when he finds a purple crayon lying in the gutter. Suddenly with his new crayon in hand he's acing everything in school. As time goes on however, the crayon becomes more and more sinister and Jasper has to find a way to dispose of it once and for all. With eye catching illustrations by Peter Brown, Creepy Crayon is bound to be a hit. (Ages 4-8)
Meanwhile Back on Earth by Oliver Jeffers (Harper Collins) – Oliver Jeffers has long been a favourite in our house and Meanwhile Back on Earth is no exception. A father takes his children on a road trip through space, looking back at Planet Earth's history as they tour the cosmos. As the siblings fight in the back seat of the car, the father takes a look at all the conflict that has taken place over land on our planet. This is a great, informative book with the usual beautiful illustrations that we come to expect from Jeffers. (Ages 3-5)
Your Life on Earth; A Record Book for New Humans by Oliver Jeffers (Harper Collins) – This is the baby record book that I wish I had when my kids were born. This would be the perfect gift to give any expecting parents. The book is beautiful in Jeffers' unique illustrative style and includes envelopes and space to record all of baby's firsts. (Ages 0-5)
Dear Black Child by Rahma Rodaah (Harper Collins) – An inspiring and affirming book, Dear Black Child is a lyrical book about taking up space and belonging. Illustrator Lydia Mba's gorgeous and colourful illustrations brings this book to life. With such a positive and powerful message, this book is bound to life spirits. (Ages 4-7)
The Way Champs Play by Naomi Osaka (Harper Collins) – Tennis superstar Naomi Osaka brings us a rhythmic book about what it takes to be a champ. There's more to being a champ than being good and having fun. Osaka teaches the value of teamwork, kindness and mindfulness in this inspiring book. Kamala Nair's illustrations pop to life with pages full of eye-catching pictures. This is a great book for any budding champ in your life. (Ages 4-8)
Burt's Way Home by John Martz (Penguin Random House) – What happens when an intergalactic trans-dimensional time traveler gets trapped on earth? Meet Burt and his adoptive earth mother Fiona as he tries to sneak around the find a way home and she tries not to let on that she knows what he's doing. This is a fun a quirky book about caring for others and the meaning of home. It's a great graphic novel for early readers. (Ages 6-9)
Meredith is a Disney obsessed stay-at-home mom. When she's not planning a trip, you'll find her with her nose in a book. Follow her on Instagram.