The U.S. Education Department is promising at least 40,000 student loan borrowers will see their debt cleared under changes to repayment programs to address what it called previous mismanagement.
The department on Tuesday announced the fixes that it says will also help millions of borrowers pay off their debts more easily. The action comes in response to scrutiny of companies contracted to collect debt and as President Biden faces mounting pressure to relieve student debt.
The new actions by the department focus on the income-driven repayment plan and Public Service Loan Forgiveness, which were designed to make loans less burdensome for borrowers.
The department, in a press statement, said that loan services improperly steered borrowers into forbearance when their monthly payment under an income-driven repayment would be as low as zero. Borrowers in forbearance can see their payments and interest balloon, leading to default.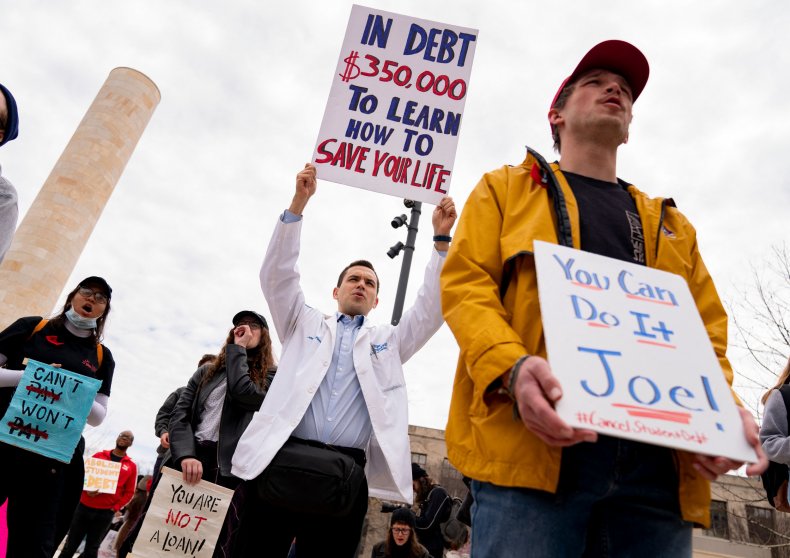 "Student loans were never meant to be a life sentence, but it's certainly felt that way for borrowers locked out of debt relief they're eligible for," Secretary of Education Miguel Cardona said in a statement announcing the changes.
He said the changes are meant to deliver "meaningful debt relief" and ensure "federal student loan programs are administered fairly and effectively."
The department says it will review previous forbearances and will make adjustments to borrowers' accounts later this year.
The adjustment will mean more than 40,000 borrowers enrolled in the Public Service Loan Forgiveness program will see their debts wiped clean, according to the department. Another several thousand borrowers will older income-driven repayment loans will be forgiven. Additionally, 3.6 million borrowers will receive at least three years of credit toward having their loans forgiven.
The reforms announced by the department follows research from the Consumer Financial Protection Bureau that found that student loan servicers have made it difficult for borrowers to access income-driven repayment plans, or Public Service Loan Forgiveness programs.
While the income-driven repayment plan is supposed to mean lower payments for borrowers and promises cancelation of remaining debt after 20 or 25 years. But a National Consumer Law Center report from 2021 found just 32 out of over 4 million had their debt forgiven.
An NPR investigation found servicers didn't know when borrowers were eligible for cancellation. A government report found the department gave inconsistent guidance to contracts on income-driven repayment plans.
The Education Finance Council echoed a similar sentiment in their statement which said, in part:
"The Department's announcement today of one-time review of the IDR process is another quick fix, band-aid approach to complex programmatic issues within the federal student loan program that have not been addressed by [Federal Student Aid] in collaboration with its partners to ensure the best interest of borrowers are kept in focus.
"This is also another substantive shift in policy by the Department of Education not shared with any advance discussion with servicers who will again be put into the position of being unable to provide clear and concise information to, or address questions from, borrowers or have advance planning for implementation."
"The Department's announcement also references oversight of forbearance use by servicers and we look forward to finally getting some guidance. The suggestion of servicers steering borrowers is without merit and is clearly an attempt by the Department to steer the conversation away from the root cause that [Federal Student Aid] has failed to fix the federal student loan repayment system for years."
Democratic Senator Elizabeth Warren, a proponent of forgiving student loan debts, reacted on Twitter applauding the move and calling for the Consumer Financial Protection Bureau to investigative loan services.
"Fixing the Income-Driven Repayment system for borrowers is critical—and it starts with providing relief to the millions of borrowers who followed the rules but haven't received the forgiveness they were promised," she said.
The Student Loan Servicing Alliance said on Twitter that it had not been provided information by the department and couldn't answer borrowers' questions.
Federal student loans have been paused for more than two years as a coronavirus pandemic relief measure.
Biden has faced growing calls from members of his party to cancel the debt outright and could make a decision in September.
Earlier this month, he extended the student loan moratorium originally set to end on May 1 to August 31.