Marketing during inflation, is hard enough without getting advice that looks good on spreadsheets, but doesn't fly with customers.
If you've been
Ruthless with costs
Driving employee productivity
Cutting waste
Changing suppliers
Raise prices
Looking for new customers
Do you see what's wrong with this? I'm sure that you not only SEE what's wrong with this approach, but you've experienced this approach yourself.
It simply doesn't work. When you look at businesses that are thriving during inflation, they don't operate out of fear. They don't cut costs while raising prices. They don't assume price sensitive customers. When inflation hits, they don't shift their focus inside, the shift their focus to their customers.
They don't look at their marketing budgets and think about where to cut. They manage their marketing budgets in a way that helps their sales force address their customers' pain points.
What is Inflation and How Does it Impact Small Business
Inflation is when the prices of goods and services go up. It can be caused by an increase in the cost of materials, higher labour costs, or changes in government policy. Ultimately it comes down to supply and demand. When demand is high and supply is low, prices go up. But inflation can also be driven by business decisions.
Anytime there is an economic disruption, supply chains are affected and this creates a ripple effect where one company raises prices due to lack of supply and high demand, their customers raise their prices and so on. Before you know it, everyone is raising prices, because if you don't, your profits will suffer.
While some inflationary pressures are real, a good amount of the inflationary environment is psychological in nature. And, while there are many, many people struggling with the impact of increasing costs, an inflationary period is often the best time to tweak your marketing and identify ways that you can provide real value.
Take on a Winflation Mindset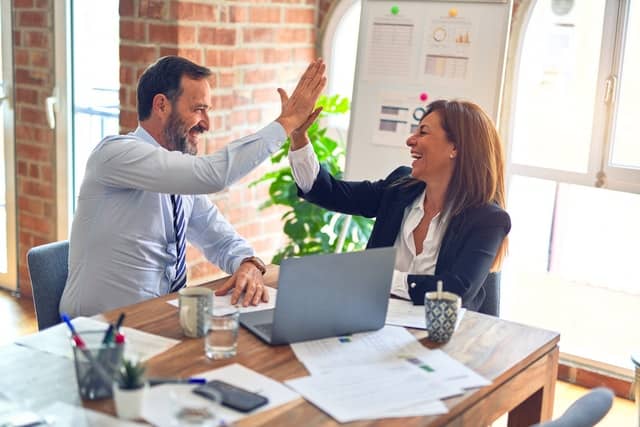 They key to successful marketing during inflation is to make sure you understand the distinction between cost and value. Get your head out of your product or service and the costs associated with that and invest your time in understanding how your customers perceive value. When you think about value, think about the things that are "priceless" to your customer.
Time
Trust
Relationship
Security
Transformation
Notice that these are all things you simply cannot pay for. They are experiences and feelings that are priceless. And successful marketers have a type of x-ray vision when it comes to identifying these hidden opportunities that simply eliminate the impact of cost inflation on their business,
As a result, they keep the customers they have, they attract new customers and after the inflationary cycle passes, they are able to become even more profitable.
I call this a "Winflation" mindset.
Here's how to turn inflation thinking into Winflation thinking.
Successful businesses and marketers assume that inflation happens. They understand that it's a long game and the trick to thriving in an inflationary cycle is to shift your thinking around price increases, revenue, and promotions to delivering real value to your customers and your market.
Price increases
Let your competitors do a price increase. You will focus on cost increases and look for ways to attach even more intangible value to those areas where you see rising costs. Another option is to keep costs low where you saw a price increase, but increase value and prices on products and services that carry more inherent customer value.
Price sensitivity
All your competitors are assuming your customers are more sensitive to price increases than they are. But you know that many customers want what they want. Your customers are happy to pay a premium to get exactly the outcome that they want.
Pricing strategies
Winflation thinking means that your pricing strategies are based on what customers value and not on your cost. Winflation focused businesses create multiple price points that provide products and services at different VALUE points. They offer basic offers as well as premium offers that give their customers a choice about the level of value they want to receive.
Short term gain
Inflation-proof businesses are focused on the long-term life and success of their business. They might put price increases in place, but these aren't across the board, their price increases are targeted and tied to value and not just cost.
1. Get ideas for new offers by listening to customers
Your existing customers hold the secrets to getting new customers. Your job is to step away from transactions and find out how you can make it easier for people to find you, choose you, and buy from you regardless of price.
I'm not talking about surveys. I'm not talking about sales calls. I'm talking about BEING present when your customers are talking to you or your team.
What are they asking about?
Is there something they would like that you don't offer?
Look back on the last month or more. Have you noticed clients or customers asking similar questions?
What about asking for recommendations?
Make a list of any patterns or questions that you notice.
Here's an example:
A local attorney hired a limo to drive his clients around banks and government offices to take care of paperwork, bank accounts and other administration required for their legal projects. He even had them taken to a free lunch!
His clients were blown away by the level of care and service. More importantly, he actually made more money. This is all because he watched, observed and noticed where his clients were having a hard time and then adding a level of service that made him the go-to attorney.
Steps to take:
What's getting in the way of your customer's buying more from you?
Is there something they need to have or to do in order have an ideal outcome?
What products or services can you offer to make it easier for clients to buy more from you?
2. Offer a Premium Option
"The heart wants what it wants — or else it doesn't care"
Don't just assume that customers are price sensitive and don't want to pay more. Customers will pay a premium for anything that:
Gives them exactly the outcome they are looking for
Saves them time
Takes something off their shoulders
Eliminates worry
Eliminates risk
Gives them access to something
When was the last time you purchased something and were disappointed at what you got?
How much more would you pay to get exactly what you wanted, when you wanted it and how you wanted it?
Lately, businesses of all sizes have been decreasing the size, quality and level of service all around because they want to maintain their pricing. Many have raised prices and still decreased quality and service.
But there's another option. Create a premium offer. Make it bigger, better, faster , and just all around top of the line. If the price is going to be high, at least give people what they are paying for!
Steps to take:
Think about the product or service that you offer and turn up the volume. For example, a restaurant can create a "chef's table" and charge extra to have the chef come out. A mechanic or appliance store can offer "white glove" service from purchase to installation. You can offer faster service. You can offer dedicated attention. Let your imagination run wild.
3. Offer a membership option
A membership option can eliminate the ups and downs of your business, streamline your work life and build profitability into your business. It's like a value meal for your products and services.
Create a membership option by bundling a series of products, services, and discounts into a variety of packages. Create good, better, and best options at different price points.
Here are a few examples:
A restaurant offers memberships that include a number of free meals, deserts, discounts on drinks and a VIP event.
A mechanic can offer oil changes, check ups, discounts on tires and other services.
A consultant or coach can offer monthly coaching calls or access to recorded trainings.
A social media or content marketer can offer a fixed number of posts, articles or content.
4. Create partnerships with businesses that sell to the same customer
Have you had customers ask you if you provide a product or service that you don't? Instead of sending them to another business, create a partnership with that business and just say yes to your customer.
Here are some examples:
A real estate agent partners with movers, cleaners, and designers to create a seamless customer journey from finding a house to moving out, moving in, absolutely anything from the time her clients decide to move until they settle in.
A local car mechanic partners with a windshield repair shop
A laundromat partners with a restaurant/bar so their customers have a place to relax while their laundry is done.
5. Follow up with people who haven't responded to your offers
No often means "not yet" or "not today". Stay in communication with the people who are on your email list. I don't mean send them sales messages, I mean send helpful informative emails, email them individually, or even take time to give them a call.
Steps to take:
Send a simple personal email with a request to schedule a time to chat.
Segment your email list based on their interest or products they've purchased.
Send content targeted to their interest such as links to blog posts they might find interest in.
6. Encourage long-term contracts
Inflationary periods mean that prices are always going up. One way to keep customers happy, is to offer them a long-term contract for a fixed price.
Here are some ideas:
A gym offers a 6 or 12-month contract at a locked in rate.
A web design company offers a 2 or 3-year contract to manage a website for a fixed monthly fee.
A virtual assistant offers an annual contract for a set number of hours per week.
7. Create experiences and make memories
You can't put a price on experiences. And, that's exactly the point. Think about creative ways that you can create experiences for your customers and clients.
Here are a few ideas:
A hotel can offer a "staycation" package that includes a hotel room, dinner, and tickets to a show.
A restaurant can offer a "dining in the dark" experience where customers are served a meal in complete darkness.
An art gallery can offer an exclusive tour of the gallery followed by a wine and cheese reception.
8. Give your customers more than they expect
This is the age-old rule of customer service and it still holds true today. When you give your customers more than they expect, they will remember you and come back for more.
How can you give your customers more than they expect?
Send a handwritten thank you note with their purchase.
Include a freebie with their purchase.
Throw in a discount for their next purchase.
Offer free shipping on their next order.
Zig When They Zag
Look, inflation is scary and it's easy to get scared. But whatever you do, don't market out of fear. Your customers see it, they resent it and they WILL go somewhere else where they are loved.
When it comes to marketing during inflationary periods, the best thing you can do is zig when everyone else zags.
By taking the time to be creative and think outside the box, you can not only weather the storm, but you can actually thrive.
So, what are you waiting for? Get out there and give your customers what they want, I promise they will be happy to pay for it.